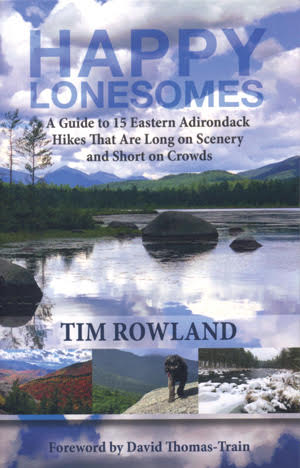 Adirondack Life
Happy Lonesomes: A Guide to 15 Eastern Adirondack Hikes That Are Long on Scenery and Short on Crowds
by Tim Rowland
Paperback
We may be social creatures, but there are times when we all need our space. Solitude has become harder to find in the Adirondack Park, but at 6 million acres, there's bound to be a spot or two that the masses haven't discovered.

Happy Lonesomes finds those spaces for you, exceptionally scenic locations on- and off-trail where you are virtually assured of having the wilderness all to yourself. More than a trail guide, it enriches the wilderness experience with history, humorous stories and ecological interpretations

Some of these spaces offer stunning, dramatic vistas; some reflect the subtle charm of a cozy forest or shimmering pond. Some take a degree of effort to reach, some are scarcely more than a woodsy stroll.



---
Share this Product
---
More from this collection